Based on data from the National Association of Realtors® (NAR), an upsurge in the Northeast and a more modest gain in the South nudged existing-home sales up in November for a third month in a row.

Total existing-home sales (transactions for single-family homes, townhomes, condominiums and co-ops) grew 0.7% to a seasonally adjusted annual rate of 5.61 million in November against October's downwardly revised 5.57 million. November's sales velocity is now the briskest since February 2007 (5.79 million) and sits 15.4% above one year ago (4.86 million).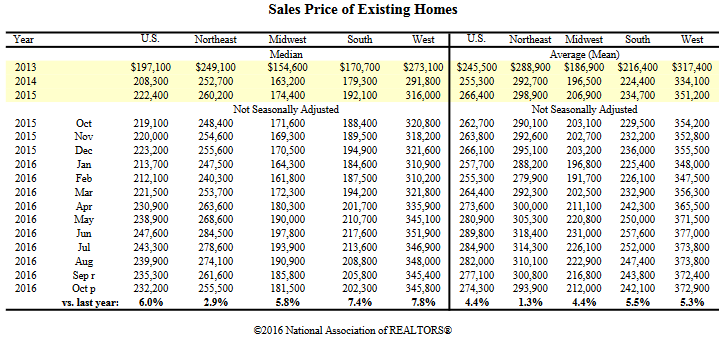 NAR's chief economist, Lawrence Yun, indicated that it's been an impressive three-month period for the housing market as 2016 ends. "The healthiest job market since the Great Recession and the anticipation of some buyers to close on a home before mortgage rates accurately rose from their historically low level have combined to drive sales higher in recent months," Yun said. He added, "Furthermore, it's no coincidence that home shoppers in the Northeast — where price growth has been tame all year — had the most success last month."

Housing Data Takeaways
November's median price for existing homes (all housing types) was $234,900, up 6.8% from November 2015 ($220,000). This price increase marks the 57th straight month of year-over-year growth.
Total U.S. housing inventory by November's conclusion fell 8.0% to 1.85 million existing homes available for sale, and is now perched 9.3% lower than a year ago (2.04 million). Inventory has fallen year-over-year for 18 straight months. Nationally, unsold inventory offers a 4.0-month supply at the current sales pace, a drop from 4.3 months' inventory in October.
For mortgage rates, Freddie Mac data shows the average commitment rate for a 30-year, conventional, fixed-rate mortgage crept up to 3.77% in November from 3.47% in October (highest rate since January at 3.87%). The average commitment rate across 2015 was 3.85 percent.




First-time buyers drove 32 percent of sales nationally in November, lower than 33% in October but up from 30% last year. NAR's 2016 Profile of Home Buyers and Sellers — released in November 5 — revealed that the annual share of first-time buyers was 35 percent (32 percent in 2015), which is the highest since 2013 (38 percent).